Sintered parts manufacturing, Powder Metallurgy products
Powder metallurgy (PM) is an economical, environmentally-friendly, efficient and innovative technology, where metal powders are compacted in a mold and sintered (heated) in controlled environments to produce a finished component with a certain specific geometry. Our sintered parts manufacturing process allows the production of different products and components for the powder metallurgy market in different industries,  manufactured by using a vast number of metal powders and alloy materials powder mixtures.
As a powder metallurgy manufacturing company we produce sintered metal parts of simple and complex shapes. Manufacturing powder metallurgy products in Eurobalt Engineering is the best solution to get reliable components made of ferrous and non-ferrous metals.
Technological capabilities
| | |
| --- | --- |
| Minimum possible weight of the part:: | 0,005 kg |
| Maximum possible weight of the part: | 1 kg |
| Minimum possible sizes of the part: | 10 mm x 10 mm x 10 mm |
| Maximum possible sizes of the part: | 100 mm x 100 mm x 70 mm |
| Minimum possible wall thickness: | 1 mm |
| Maximum possible wall thickness: | 10 mm |
| Tolerances achieved by pressing and sintering: | +/- 0,05 mm |
| Tolerances achieved by post-machining: | 0,001 mm |
| Minimum possible batch: | From 2500 parts |
Standard materials used
DIN Sint-C00; DIN Sint-E00;         FX-1000-25;       FX-2008-60HT;  
DIN Sint-C10; DIN Sint-E10;         FX-1005-100HT;    FX-1005-40;
DIN Sint-D10; DIN Sint-C01;         FX-2008-60;       FX-2008-90HT;
DIN Sint-D01; DIN Sint-E30;         FX-1008-110HT;    FX-1008-50;
DIN Sint-C30; DIN Sint-D35;         FX-2005-45;       FX-2000-25;
DIN Sint-C35; DIN Sint-D36;         FX-2005-90HT;
DIN Sint-C36; DIN Sint-D11;
DIN Sint-C11; DIN Sint-D30;
DIN Sint-C39; DIN Sint-D39;
DIN Sint-D00
Equipment
| Equipment | Quantity |
| --- | --- |
| Hydraulic press | 13 |
| Automatic powder press | 8 |
| Mechanical presses | 9 |
| Mesh belt furnace | 1 |
| Pusher furnace | 1 |
| Steam boiler | 1 |
| Hacksawing machine | 1 |
| Grinding machine | 4 |
| Lathe | 9 |
| Radial drill | 4 |
| Coining equipment | 2 |
| Automatic lathe | 4 |
| CNC machine center | 5 |
| Wire-electrode cutting | 3 |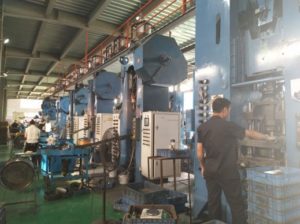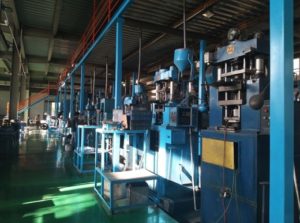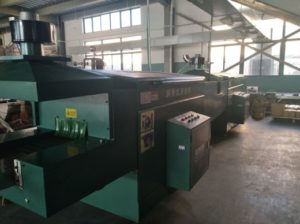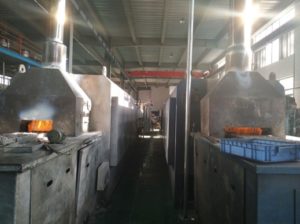 Advantages of custom-made sintered metal parts
Sintered metal products of complex shapes
High precision and fine surface treatment of sintered products
Special properties that meet your requirements (hardness and wear resistance)
Mass production capabilities
Control over different material properties, such as porosity, the composition of chemical constituents and microstructure among others
Processing of materials with high melting points
Low weight of metal products in comparison to other manufacturing processes
Lower production costs due to the reduction of yield losses in manufacturing, costs effectiveness, and lower energy consumption (Environmentally friendlier technology)
Sintered parts manufacturing
РМ parts and components can be manufactured at different speeds and in different quantities, from hundreds to thousands of components per hour. Some key elements and stages we consider of great importance when manufacturing with our powder metallurgy and sintering technologies are:
Parts resizing
Powder composition
Production rate
Tool wear
Sintering
Heat treatment
Furthermore, we also control secondary operations, such as sintered parts calibration and machining.
Before, during, and after production of the components we carry out our strict quality control systems, which includes the monitoring of:
Radial dimensions (perpendicular to the press axis), which are controlled by a tool (tooling). We count with modern presses with computer numerical control (CNC) systems, that guarantee an excellent control over dimensional accuracy, pressing speed and mold It allows us to ensure size constancy (repeatability), regardless of the volume and rate of production.
The automatic correction of powder composition, which goes into a press mold, guarantees a fully identical weight of the parts, at constant pressing density. Moreover, all powder composition parameters, necessary to manufacture powder metallurgy parts, are set before batch production is launched.
In order to provide all these advantages and possibilities, we in Eurobalt Engineering manufacture our own molds and calibration tools, we store them and plan the production of new additional tooling beforehand. We do all this at our own expense.
As a result of our strict and controlled production system, we achieve components with different powder compositions and finished parts with various properties, comparable to the properties of components that have undergone heat treatments. Therefore, for some of our components there is no need to carry out a secondary heat treatment.
Powder metal components from Eurobalt Engineering
By entrusting the production of your powder metallurgy parts to our company, you will be provided with high and stable quality in your manufactured components, as well as on schedule production deadlines and timely delivery of the manufactured parts. Our customers have received outstanding manufacturing services when trusting us with their PM components production, evidence of this is the positive feedback received, and the recommendations and references given by our customers from different industries, including the automotive industry and the hydraulic industry among others.  From our experience and values, you can trust us and be confident in the quality of our production.