Sintered parts manufacturing and Powder Metallurgy products.
Powdered metal components.
Powder Metallurgy (PM) is a cost-effective, eco-friendly, efficient, and innovative technology. Metal powders are compressed into a mold and heated in a controlled environment to produce finished components with a specific geometry. Our sintered part manufacturing process allows us to produce diverse products and components for the powder metallurgy market in various industries, using a wide range of metal powders and alloy material blends.
As a manufacturer of powder metallurgy, we produce sintered metal parts in both simple and complex shapes. The production of powder metallurgy at Eurobalt is the optimal solution for acquiring dependable components made from both ferrous and non-ferrous metals.
Technological capabilities
| | |
| --- | --- |
| Minimum possible weight of the part:: | 0,005 kg |
| Maximum possible weight of the part: | 1 kg |
| Minimum possible sizes of the part: | 10 mm x 10 mm x 10 mm |
| Maximum possible sizes of the part: | 100 mm x 100 mm x 70 mm |
| Minimum possible wall thickness: | 1 mm |
| Maximum possible wall thickness: | 10 mm |
| Tolerances achieved by pressing and sintering: | +/- 0,05 mm |
| Tolerances achieved by post-machining: | 0,001 mm |
| Minimum possible batch: | From 2500 parts |
Standard materials used
DIN Sint-C00; DIN Sint-E00;         FX-1000-25;       FX-2008-60HT;  
DIN Sint-C10; DIN Sint-E10;         FX-1005-100HT;    FX-1005-40;
DIN Sint-D10; DIN Sint-C01;         FX-2008-60;       FX-2008-90HT;
DIN Sint-D01; DIN Sint-E30;         FX-1008-110HT;    FX-1008-50;
DIN Sint-C30; DIN Sint-D35;         FX-2005-45;       FX-2000-25;
DIN Sint-C35; DIN Sint-D36;         FX-2005-90HT;
DIN Sint-C36; DIN Sint-D11;
DIN Sint-C11; DIN Sint-D30;
DIN Sint-C39; DIN Sint-D39;
DIN Sint-D00
Equipment
| Equipment | Quantity |
| --- | --- |
| Hydraulic press | 13 |
| Automatic powder press | 8 |
| Mechanical presses | 9 |
| Mesh belt furnace | 1 |
| Pusher furnace | 1 |
| Steam boiler | 1 |
| Hacksawing machine | 1 |
| Grinding machine | 4 |
| Lathe | 9 |
| Radial drill | 4 |
| Coining equipment | 2 |
| Automatic lathe | 4 |
| CNC machine center | 5 |
| Wire-electrode cutting | 3 |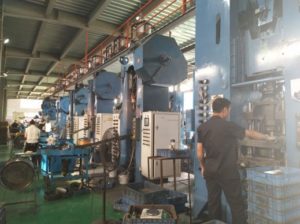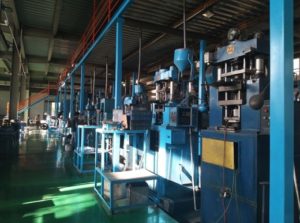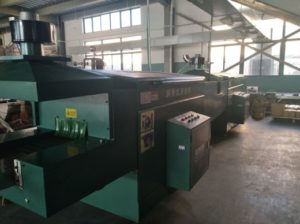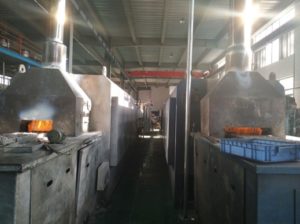 Advantages of Custom-Made Sintered Metal Parts:
Sintered metal products with intricate geometries.
Our sintered products are known for their exceptional precision and smooth surface finish.
Special Properties for Your Needs (Hardness and Wear Resistance)
Our company has the ability to produce goods on a large scale efficiently.
Control various material properties, including porosity, chemical composition, microstructure, and more.
Processing high melting point materials.
Lightweight metal products are a superior choice compared to other manufacturing processes due to their exceptional weight-to-strength ratio. Their lightweight properties provide increased mobility and ease of transportation, perfect for industries where mobility is necessary.
Lower production costs resulted from reduced manufacturing yield losses, increased cost-effectiveness, and decreased energy consumption through the use of greener technology.
Sintered parts manufacturing
РМ parts and components can be manufactured at different speeds and in different quantities, from hundreds to thousands of components per hour. Some key elements and stages we consider of great importance when manufacturing with our powder metallurgy and sintering technologies are:
Furthermore, we also oversee secondary operations, including calibration and machining of sintered parts.
Before, during, and after production of the components, we implement rigorous quality control systems that include:
Radial dimensions perpendicular to the press axis are controlled by tooling. Our modern presses are equipped with computer numerical control (CNC) systems that ensure excellent control over dimensional accuracy, pressing speed, and the mold. This allows us to maintain size constancy (repeatability) irrespective of volume or production rate.
Automatic powder composition correction within the press mold ensures consistent part weight and uniform pressing density. Furthermore, all parameters for the powder composition required to produce powder metallurgy parts are established before initiating batch production.
To ensure these benefits and opportunities, at Eurobalt Engineering, we produce our own molds and calibration tools, store them, and pre-plan the production of new tooling. We undertake all these tasks at our own cost.
As a result of our rigorous and regulated production system, we attain components with distinct powder compositions and finished parts with diverse properties, similar to those of components that have undergone heat treatments. As a result, there is no need to conduct secondary heat treatments for certain components.
Unlock the Power of Precision with Eurobalt's Powder Metal Components
When you choose Eurobalt as your powder metal component manufacturer, you unlock a world of possibilities. Expect nothing less than:
Exceptional Quality: We deliver consistently high-quality parts, meeting your exact specifications.
On-Time Delivery: Count on us for punctual production and timely delivery to meet your project deadlines.
Customer Satisfaction: Our satisfied customers, spanning diverse industries like automotive and hydraulics, speak for our excellence.