To support the success of our customers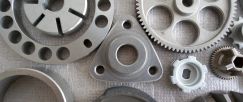 Our powder metallurgy manufacturing provides a wide range of advantages for our clients.
All measuring equipment and tools are calibrated regularly in order to secure the high accuracy of measurements.
Positive verifications, conducted by customers and independent certificate companies, are another evidence of our work efficiency.
We will find a way to provide a competitive price on the market.
We involve independent expert organizations which control quality according to our customers' wishes.
We do the planning and designing in order to create the most economical product.
Experience in manufacturing technologies enables us to provide comprehensive consultations on technical matters with customers.