Die Casting Manufacturing
High pressure die casting
Die casting manufacturing is a universal method to produce engineered die casting products by pressing molten metal under high pressure into reusable steel molds. These molds can be used for manufacturing complex  high pressure die casting products with a high degree of accuracy and batch production. Die casting products (parts) can be sharply defined, with smooth or textured surfaces, and are suitable for a wide variety of attractive and serviceable finishes.
Eurobalt Engineering OÜ , in association with the partners, is constantly investing in equipment and technologies to provide consistency, precision, and automation of the process. Combining automated monitoring of a production process and expert control over technical staff makes it possible for us to reveal malfunctions in the production process and to remove them in time.
Technological capacities
Minimum possible weight of the part:      0,017 kg 
Maximum possible weight of the part:      12 kg
Minimum possible sizes of the part:       Ø 17mm x 4mm 
Maximum possible sizes of the part:       300mm x 650mm x 100mm
Minimum possible wall thickness:          0,8mm 
Maximum possible wall thickness:          12,7mm
Tolerance class for casting:              ISO 8062 ST5 
Minimum possible batch:                   500 kg
Standard materials used in aluminum die casting
ADC 1               Al-Si            AAA 413
ADC 12 Z            Al-Si-Cu         AA 383 
ADC 3               Al-Si-Mg         AAA 360 
ADC 14              Al-Si-Cu         AAB 390
ADC 5               Al-Mg            AA 518
AAA 356+T6          ADC 6            Al-Mg 
AA 515              AC4A             ADC 10 
Al-Si-Cu            AAB 380          AC2B 
ADC 10 Z            Al-Si-Cu         AAA 380 
LM6                 ADC 12           Al-Si-Cu 
AA 383              ENAC-46000       AlSi10Mg 
ENAC-43000
Equipment
| Equipment | Quantity |
| --- | --- |
| Die casting machines | 5 |
| Die spotting machine | 1 |
| Electrical discharge machine | 8 |
| CNC Machines | 13 |
| WEDM | 10 |
| Slow WEDM | 2 |
| Milling CNC machines | 5 |
| Radial drilling machines | 5 |
| Grinder | 2 |
| Lathe machines | 2 |
| Milling machines | 2 |
| Drilling machines | 3 |
| Polishing machines | 2 |
| Shot blasting machine | 1 |
| Quality control CMM machine | 1 |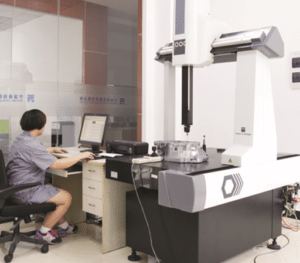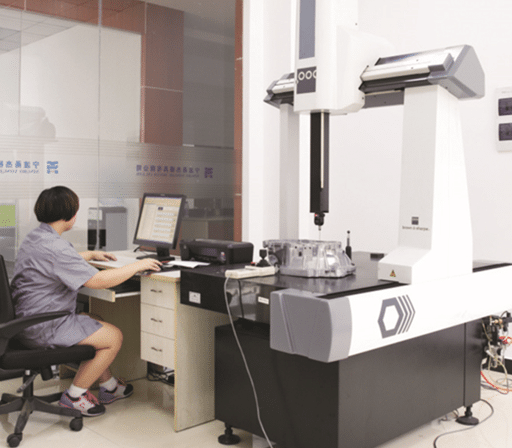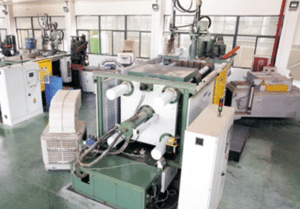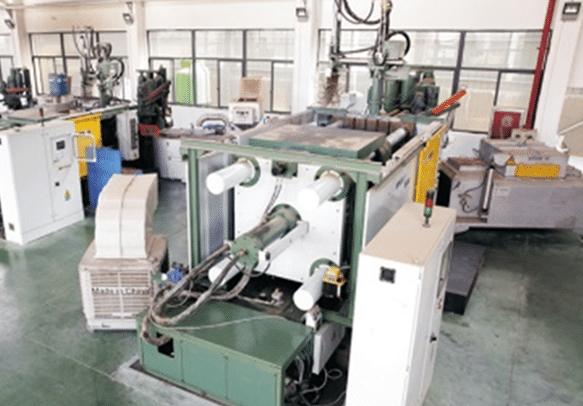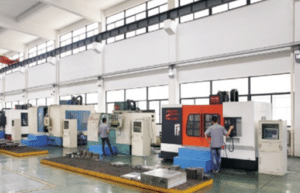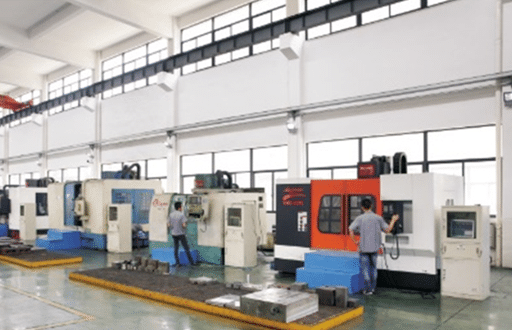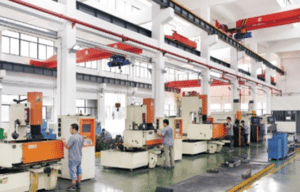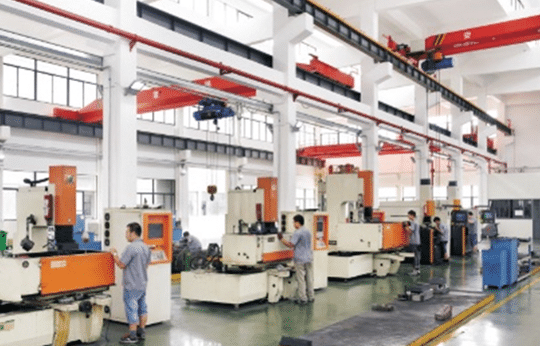 The Advantages of Die Casting
High Speed Production: Die casting provides complex shapes within closer tolerances than many other mass production processes. Little or no machining is required and thousands of identical castings can be produced before additional tooling is required.
Dimensional Accuracy and Stability: Die casting produces parts that are durable and dimensionally stable, while maintaining close tolerances. They are also heat resistant.
Strength and Weight: Die cast parts are stronger than plastic injection moldings having the same dimensions. Thin wall castings are stronger and lighter than those possible with other casting methods. Plus, because the die castings do not consist of separate parts welded or fastened together, the strength is that of the alloy rather than the joining process.
Multiple Finishing Techniques: Die cast parts can be produced with smooth or textured surfaces, and they are easily plated or finished with a minimum of surface preparation.
Simplified Assembly: Die castings provide integral fastening elements, such as bosses and studs. Holes can be cored and made to tap drill sizes, or external threads can be cast.
The die casting process has evolved from the original low-pressure injection method to techniques including high-pressure casting at forces exceeding 4500 pounds per square inch squeeze casting and semi-solid die casting. These modern processes are capable of producing high integrity, near-net-shape castings with excellent surface finishes.
At our die casting manufacturing facilities
We can manufacture die casting parts weighing between 5 grams to 12 kilograms. In order to produce zinc alloy parts, we use hot chamber die casting machines. This is due to the melting point of zinc-based alloys 900 ° C. In case of use use cold chamber die casting machines, the tooling will be effected by large temperature gradients and its lifespan will decrease significantly. At our facilities, cold chamber die casting machines are used to cast aluminum and magnesium alloy products for our customers.
Even though these types of die casting have many advantages (high production rate, high precision, high strength and surface smoothness of finished products). Let's admit about one considerable disadvantage. It is the cost of tooling. However, we always find an individual approach to our customers. We repair and replace worn tooling and manufacture a new one in-house. What helps to reduce costs significantly for our customers. In addition, we always consider prospects for further work on a project-by-project basis. We analyze project duration, quantity of necessary parts and product complexity. If it is a large project, we can take a part of the tooling cost on ourselves. It is also worth mentioning that storage, repair, and remanufacturing of a new tooling are carried out at our own expense.
Summing up, we can definitely say that when choosing our company, you will get high-quality high pressure die casting products and at the best price in the market among many other die casting parts suppliers.