Hydraulic Cylinders for Cranes: Precise Engineering for Strong Performance.
Hydraulic cylinders are the backbone of crane systems, orchestrating the intricate dance of heavy loads with precision and power. In this exploration, we shed light on Eurobalt's offerings, meticulously designed to cater to the diverse needs of crane operations.
1. Robust Foundation: Primary Hydraulic Cylinders
At the core of every crane's lifting prowess are the primary hydraulic cylinders, strategically positioned at the base. Eurobalt specializes in crafting these robust workhorses, engineered for immense lifting capacities. Here, raw power meets reliability, enabling large-scale lifting operations with seamless efficiency.
Power and Precision: Our primary cylinders are synonymous with strength. Crafted to meet the demanding requirements of heavy lifting, they ensure stability and durability in the face of challenging loads.
2. Structural Elegance: Upper Hydraulic Cylinders
Mounted atop the crane structure, the upper hydraulic cylinders play a pivotal role in orchestrating complex movements. Eurobalt's upper cylinders go beyond lightweight design; they are a testament to structural elegance, providing the finesse needed for nuanced crane operations.
Lightweight Agility: With an emphasis on structural lightweight, our upper cylinders are designed for extended lengths, facilitating versatile movements without compromising on the crane's structural integrity.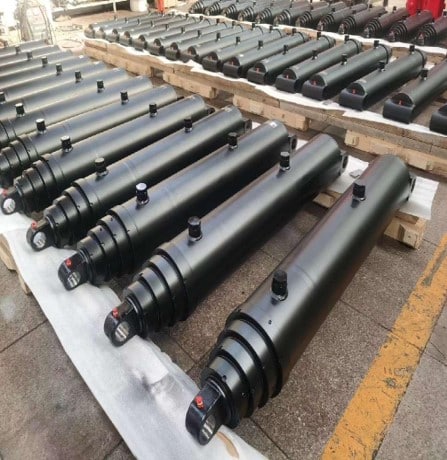 Eurobalt's Distinctive Edge
Eurobalt brings a unique proposition to the table: a comprehensive offering that spans the entire spectrum of hydraulic cylinders, from the mighty primary cylinders to the agile upper variants. This holistic approach to manufacturing hydraulic solutions positions Eurobalt as a one-stop destination for all your crane hydraulic needs.
Complete Hydraulic Sets: When you choose Eurobalt, you're not just selecting hydraulic cylinders; you're opting for a complete set. Our clients have the flexibility to include various sizes and types of cylinders in a single order, streamlining the procurement process and optimizing shipping costs.
Tailored to Perfection: Eurobalt takes pride in its ability to tailor hydraulic solutions to the unique requirements of each client. Whether it's a heavy-duty primary cylinder or a sophisticated upper variant, our products are meticulously crafted to meet and exceed industry standards.
---
Conclusion: Elevating Crane Performance with Eurobalt Hydraulic Cylinders
In the constantly evolving realm of crane operations, Eurobalt stands out as a dependable collaborator, offering hydraulic cylinders that flawlessly incorporate force, accuracy, and flexibility. Our unwavering dedication to excellence, along with an extensive range of products, establishes us as a leader in providing hydraulic solutions for cranes that surpass industry benchmarks.
Connect with Eurobalt today to explore how our hydraulic cylinders can elevate the performance of your crane systems, ensuring efficiency and reliability in every lift.